Naturally optimized human antibodies®
The in vivo immune response pairs intrinsic genetic diversification mechanisms with powerful cellular selection to generate diverse antibody repertoires directed against virtually any type of protein target. Many iterations of mutation and selection result in rapid molecular evolution that efficiently samples vast sequence space to generate antibodies with optimal binding characteristics. When this natural process takes place in animals that have been engineered to harbor human Ig transgenes, it creates a facile and versatile path to therapeutic agents capable of addressing a wide variety of human disease.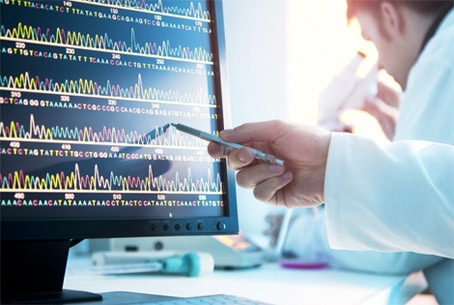 Phenotypic Sampling of the Immune Repertoire
Antibodies of interest can be identified in immunized animals using single B-cell screening methods, which allow phenotypic characterization of mAbs secreted by individual cells. This allows for the selective recovery of desired mAb clones and efficient sampling of an immune repertoire, and is particularly useful when evaluating immunization strategies and response differences between individual animals in a campaign. When large numbers of clones are obtained it is possible to correlate antibody performance profiles with particular sequences (clonotypes).
Diving Deeper into Immune Repertoires
When phenotypic screening reveals one or more clonotypes with favorable therapeutic potential, it is possible to further expand the pool of candidates by performing additional phenotypic screening focused on selected antibody repertoires. Additionally, it is possible to use the phenotypic data and chain pairing information to leverage NGS data sets to explore entire antibody repertoires to find highly related sequences that may have been missed in phenotypic screening.
Identifying Therapeutic Leads
Through phenotypic screening and hit expansion, a large number of variant sequences can be discovered for each clonotype determined to have therapeutic potential. These sequences are filtered through a battery of in silico evaluations to remove sequences with liabilities or potential developability problems, and potentially improve potency. Naturally optimized sequences are then re-expressed in antibody format of choice and performance is confirmed in analytical and bioassay evaluation to create a ranked list of potential leads.